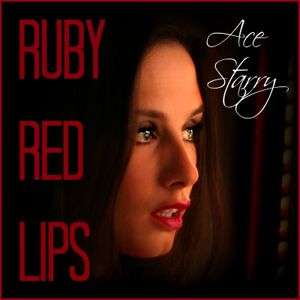 It's amazing the kind of reception the NashVegas Sound music has been getting over at numberonemusic.com. We have had numerous songs from the hit album ROCKIN' NASHVEGAS hit the top ten on the charts and even a couple reach number one in the Rockabilly genre. But this is the first time one of our songs has crossed onto the AmerIcana Genre and taken it's place as NUMBER 1 IN THE WORLD! The song that has done it is RUBY RED LIPS. A sultry sounding tango of a song that Ace wrote just to try to write something as sexy as he could imagine. Well being inspired by the red lips of a girl he met on cam in a cam chat room, he sat and wrote the song to her and her sexy lips along with her smokey dark eyes. He says that he almost completed the song right while he was singing to her on line. It was recorded later with Mike Loudermilk in his west Nashville studio along with Haley Blue, a very sultry voiced German vocalist. The sexy sound of the word, "kiss" repeated in the background gives it an almost haunting sexy sound.

Well, when he finally had a finished song he decided to give it a try out on the Nashville writer's night circuit. The very first bar he'd play the song was called Bobby's Idle Hour, a famous little dive on Music Row in Nashville. Ace was sitting between two other song writers, a guy to his left and an attractive girl to his right, each taking their turns playing their songs. Ace introduced his song saying, "I just wanted to write something a little different, something sexy and sultry. I hope you'll like it." Well, he played the song for the very first time. It is a song that explores the fantasy of a man who sees a beautiful woman walk into the room and his desire to just go for it and kiss her. He is pulled over by her magic spell and is willing to take a risk, but just as he decides to kiss her, she instead kisses him.

Well, the song must have made quite the first impression, because as soon as the song was over and the crowd was applauding, the girl sitting next to Ace, stood up, walked over to him, and planted an open mouth wet kiss on him. He was quite caught off guard and all he could say was, "Well, I guess that song worked." Please check out the song RUBY RED LIPS.